CannaTrade 2011, annulée, annuliert
CannaTrade 2011, canceled, annulée, annuliert
vive la Cannatrade 2012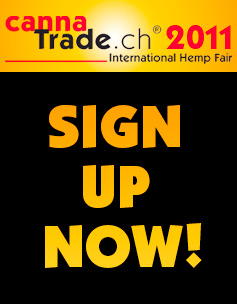 CannaTrade.ch – 2011 cancelled!
DEUTSCH - FRANÇAIS – ITALIANO scroll down - unten - en bas - sotto
— - ENGLISH ---
Dear CannaTrader,
unfortunately, we have to cancel the hemp fair CannaTrade in 2011. For most of our permanent exhibitors this year's invitation was definitely too late, also the short term movement to a new location in Zurich seems to be a problem.
Therefore the fair management decided to organize the next fair in Springtime 2012,
probably in Zurich. We will inform you on details as soon as possible .
Thank you pretty much for your comprehension.
We wish you a wonderful time and hope to see you next year at CannaTrade 2012.
With kind regards
Team CannaTrade
---
— - DEUTSCH ---
Liebe CannaTrader
Die CannaTrade 2011 findet leider nicht statt. Die sehr späte Bekanntgabe des neuen Standorts
war für viele Stamm-Aussteller zu kurzfristig, so dass die Messeleitung entschieden hat, die Messe um ein Jahr zu verschieben.
Die nächste CannaTrade findet nun im Frühling 2012 statt, voraussichtlich in Zürich.
Ort und Datum werden so bald als möglich bestätigt.
Herzlichen Dank für Euer Verständnis.
Wir wünschen Euch eine gute Zeit und freuen uns Euch nächstes Jahr zur CannaTrade 2012 begrüßen zu dürfen.
Mit besten Grüßen
Team CannaTrade
---
— - FRANÇAIS ---
Chers amis de CannaTrade
Malheureusement, CannaTrade 2011 n'aura pas lieu.
Le retard dans la publication du nouveau site était trop important pour beaucoup de nos exposants réguliers. C'est pourquoi, la direction de la foire a décidé de reporter la foire d'une année. La prochaine édition de CannaTrade aura donc lieu en printemps 2012, probablement à Zurich. Le lieu et la date de CannaTrade 2012 seront confirmés le plus rapidement possible.
Nous vous remercions pour votre compréhension et d'ici là, nous vous souhaitons une excellente année.
Salutations amicales.
Team CannaTrade
---
Next edition: 2012
New in ZURICH, Switzerland

CannaTrade.ch


International Hemp Fair - Switzerland
CannaTrade.ch AG


Monbijoustrasse 17


CH-3011 Bern


Switzerland
phone. +41 31 398 02 35


fax +41 31 398 02 36
eMail info chez cannatrade.ch


http://www.cannatrade.ch