ENCOD and Chanvre-Info present : A "Summer University" on the Freedom to Farm
From August 19th, 2007, onwards, André Fürst, owner of Chanvre-Info, together with the European Coalition for Just and Effective Drug Policies (ENCOD) invite all activists for a global reform of drug policies to participate in a « cultural and political camping » at the farm of Chanvre-Info in Murten.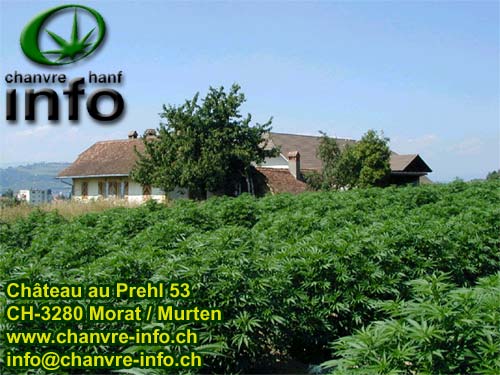 The event will be organised in the form of a « Summer University », where several representatives of the European drug policy reform movement will meet to discuss our collective efforts related to the coming meeting of the UN Commission on Narcotic Drugs in Vienna, in March 2008. It will also be an expression of our collective concern with regards to the prison sentence of 29 months against André Fürst, for the production of beneficial hemp products.
The definitive programme of this event will be made public in the coming weeks.
Workshops will be organised on the following topics:
Vienna 2008: a world without prohibition, can we do it?
Cannabis Social Clubs: a peace proposal to end the war on drugs
Actions to support the case of André Fürst
The 2007 "Reefer Madness" campaign and how to re-act
The beneficial uses of hemp
The dialogue process with the European Union on drug policy: trap or opportunity?
The programme will start on Sunday 19 August at 15.00. It will be adapted in function of the local conditions and the number of participants.
The location offers free camping to participants, free use of facilities including Internet, kitchen and bathroom facilities. The only thing that people need to bring is a tent, a camping bed and a sleeping bag.
Please contact us with any question you may have.
A "Summer University" on the Freedom to Farm
At Chanvre-Info
Prehlstrasse 53
Murten
Switzerland

P.S.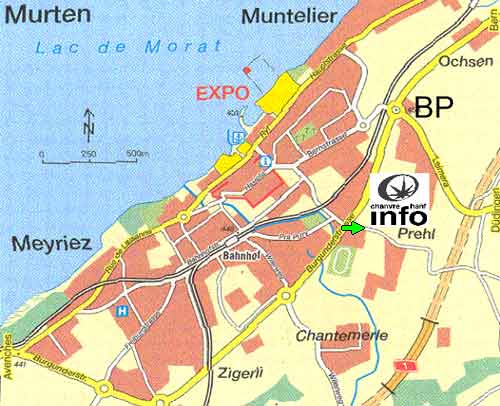 Agricultural research station
Châteaux au Prehl 53
CH-3280 Morat/Murten
Tel. 026/670.08.66
Fax 026/670.08.67
eMail: info

at

chanvre-info.ch