Expocannabis Sur 2011; in Málaga 29, 30 & May 1 2011.
Welcome to the official website for Expocannabis Sur 2011, the 2nd annual Hemp and Alternative Tecnologies Fair in Málaga, at the Trade Fairs and Congress Center on April 29, 30 & May 1 2011.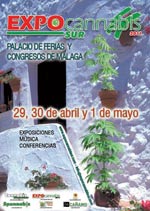 Expocannabis Sur 2011
It seems it was only yesterday when we opened the first Hemp Fair in Spain. That fair broke the mould in a society hidden behind false believes, stereotypes and a moral full of hypocrisy. Since that Spannabis was celebrated in Palau Sant Jordi in Barcelona, six more editions, all notably successful, have followed in Barcelona as well as five Expocannabis editions in Madrid.
The social movements focusing on cannabis have been opening doors throughout these years. Every edition of Expocannabis and Spannabis were warmly received by visitors, exhibitors and media, increasing its international recognition as well as the number of visitors at both events each year. After these years of experience, and to live up to visitor's and exhibitor's expectations, we have decided to create an edition in the south of Spain.
For that purpose we have chosen Málaga, the Costa del Sol (Sun Coast) capital, as the place to celebrate it. After having considered other provinces and venues, we settled on the Palacio de Ferias y Congresos of Málaga (FYCMA) for many different reasons.
Read More:
http://www.expocannabisur.com/en/index.html
Contact Info:
FERIA DEL CÁÑAMO, S.L.
Oficinas Centrales


Ctra. M111 Km.7,300


28860-Paracuellos del Jarama (Madrid).
Horarios


10:00 a 14:00


15:00 a 19:00


Lunes a Viernes
Teléfonos


Tel.:+34 91 658 45 20


Fax:+34 91 790 38 98


Skype Me™!Skype: cannabismagazine
info chez expocannabisur.com