MARDIGRASS 2011 APRIL 30 AND MAY 1, Nimbim AU
"BRING BACK RESPECT"
The MardiGrass Organising Body has met with Lismore Council and everything is on track officially for the 2011 annual weekend of cannabis law reform activities. The MOB meets every friday from 5pm at the Embassy (enter thru the HEMP Bar) and everyone is welcome.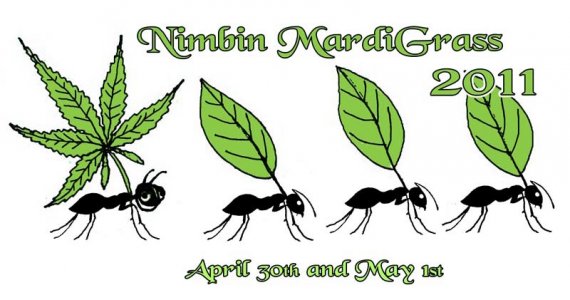 We are always keen for new ideas and input and especially local volunteers. We plan on being better organised with volunteers this year and we may even have 'Team Leaders', or perhaps, 'Top Buds'. Local knowledge is critical to guide the hordes of often non English speaking backpackers who want to help out and locals wanting to be part of this please register early at the Embassy. Same with Jungle Patrollers.
Recycling at least the cans must happen this year and we are looking for a club or non profit local group who will help take this on and get the profits.
We also want to hear from creative souls who want to do street theatre over the weekend. And remember the Happy High Herbs Float Awards are on again. A Mardigrass Comedy Cabaret on Saturday night is planned for the Town Hall. We are hopeful Bob Dylan will judge the Buskers Comp but he is not confirmed. The Bluesfest and Easter is the weekend before Mardigrass this year so we expect quite a few people to attend both.
Pot Art entries can be brought into the HEMP Bar (if they fit!) and will be displayed in cafes around the village.
The Big Question? We inspected Peace Park, the Home of the Hemp Olympix, and expect no dramas fitting in with the new skatepark which should be well and truly finished by then. It looks like a MardiGrass Skatecomp will in fact become a new Hemp Olympix Gold Medal event though we havn't quite worked out the details! Is there a Nimbin Skaters Club? Please come to a MOB meeting!
The Peace Park Main Stage will be repositioned closer to Sibley Street we expect and already in the music line up is AOK, Anarchist Duck, Nathan Kaye, elseWhere, 50 bags, Irie Knights, Pagan Love Cult, Zennith and Kaptan Reefer.