New Drug War Book Available
Drug War Facts, an extensive compilation of quotes, stats, charts and other info
The 5th edition of the convenient print edition of Drug War Facts is now available. Donate $17 or more to DRCNet, and we will send you — or your specified gift recipient — a copy of Drug War Facts. Or, donate $25 or more for Drug War Facts AND the essential DVD video Law Enforcement Against Prohibition. Please visit http://stopthedrugwar.org/donate/ to make your donation and order Drug War Facts 5th Edition today — consider signing up to donate monthly!
Testimonials for Drug War Facts: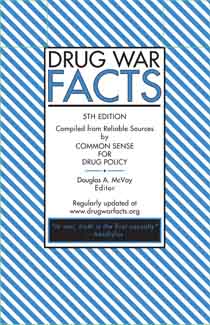 "A valuable resource for anyone concerned with drug policy." - Ira Rosen, Senior Producer, ABC News


"Filled with hard numbers that shed much needed light on the drug war." - Lester Grinspoon, MD, Assoc. Prof of Psychiatry (emeritus), Harvard Medical School


"A compendium of facts that fly in the face of accepted wisdom." - David Duncan, Clinical Associate Professor, Brown University Medical School

P.S.
Dear drug reformer,
I'm writing today to let you know about an important resource used widely in "the movement" — Drug War Facts, an extensive compilation of quotes, stats, charts and other info dealing with more than 50 drug policy topics ranging from economics to needle exchange programs to the marijuana gateway theory to environmental damage in the drug war, drug policy in other countries, race as it plays into drug war issues, even a "Drug Prohibition Timeline." Whether your goal is to improve your understanding, add force to your letters to the editor or prepare for a debate or interview, Drug War Facts, a publication of Common Sense for Drug Policy, is a valuable if not essential tool.